We have an Australian Shepherd (Her name is Maya and the blog is named after her as you can tell!) and as with all Aussies, they are smart as smart can be and need to be kept entertained!  Keeping their brains working actually wears them out more than running around with them!  I know I'll never be able to outrun Maya but I sure can outsmart her (well, ok, sometimes at least!).
One of the best ways we've found to tire her out, keep her busy while I do other things is to use dog toys – the mentally stimulating kind rather than the kind that she chews and I end up finding little clumps of polyester love all around the house.  One of the first toys we started out with was the Trixie Dog Activity Chess board.  Its an easy start into smart dog toys but yet not too easy that she tires of it.  Basically we fill it with treats or breakfast in her case, let her figure it out and once she does, we fill it again.  She now only takes about 30 seconds to get through it but doing this (and a couple of other toys) a few of times throughout the day does work that little brain of hers and I find that it results in an overall calmer dog throughout the day.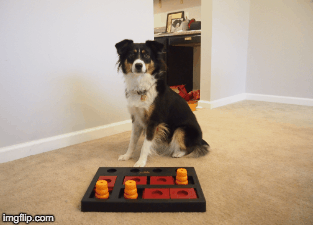 Another one we have is the Busy Buddy Twist and Treat.  This is a toy that you fill up and she has to push it around the house to get those treats out.  What I love about this one is the fact that you have different difficultly settings.  Maya is now on "how the heck do you get these treats out – I think its rigged" setting and it sometimes keeps her busy for 5 minutes straight!  5 minutes isn't a long time but remember, these toys work their brain so that 5 minutes of work is going to play out in a calmer energy later.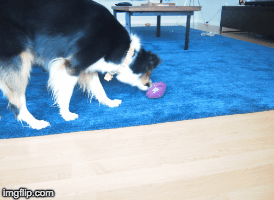 So have you tried mentally stimulating dog toys before?  Give one a shot and if nothing else, you know your dog is having some fun with it!
These are some other dog toys we own.  (Affiliate links below)
Maya wants me to tell you guys to get these for your pups and have fun!